Bobby G Can't Swim

CREW
John-Luke Montias (Writer/Director/Star)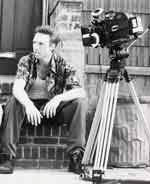 John-Luke Montias studied acting at NYU's Tisch School of the Arts. As a writer, his plays Happy Birthday Johnny Red, The Roof, Oedy and Jo have been performed at various venues in NYC.
Besides "Bobby G.", Montias' recent acting credits include Home Sweet Hoboken, Shooting Vegetarians, and Mole. On TV he guest-starred on NBC's Law and Order and Law and Order: Special Victims Unit. His film projects in development include Cherry Pie, a story about the Irish-American mob in Hell's Kitchen circa 1981, and Perfect Pitch, a comedy about a car sales-pitch competition.


Michael Pilgram (Producer/Assistant Director/Editor)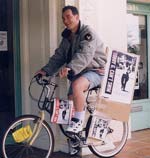 Pilgram has been working on Bobby G. from the beginning. He handled everything from hiring the crew, to buying the film stock, to making sure the shoot stayed on schedule. He even jumped in front of the camera when an actor who was supposed to play a small role failed to show up.
Pilgram has been working on independent films for more than a decade. He recently edited the dialogue for Stephen Earnhart's Mule Skinner Blues, a documentary that premiered in May at the Doubletake Film Festival. Earlier, he worked as an editor on The Escape Artist, a feature by Michael Lawrence; associate editor, sound editor and post-production producer for Debra Eisenstadt's Daydream Believer, the winner of the best dramatic feature award at Slamdance 2001; and associate editor of Tom Zuber's Lansdown, which won the best first feature award at the Cinequest Film Festival 2001. Pilgram also edited Kill By Inches, a film by Diane Doniol-Valcroze & Arthur Flam, and served as the assistant editor on Peter Cohen's Drunks, a Shooting Gallery feature that starred Richard Lewis.
Pilgram grew up in Leiden, The Netherlands, and later studied photography and filmmaking at the Arts Academy in The Hague. His career as an editor started while he was working as a gaffer, when the editor drafted him to serve as an editing assistant.


Gill Holland (Producer)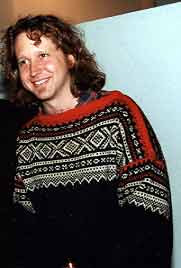 Nominated for the Spirit Award for Producer of the Year 1998, Gill's producing credits include, in addition to Bobby G Can't Swim Morgan J. Freeman's triple Sundance award-winning Hurricane Streets (MGM); his follow-up Desert Blue (Samuel Goldwyn), starring Christina Ricci, Casey Affleck, Brendan Sexton III, Sara Gilbert, and the then-unknown Kate Hudson; Rob Tregenza's Inside/Out (Cannes 1997); Tom Gilroy's award-winning Spring Forward (starring Ned Beatty and on many critics' top tenlists for 2000); and Tim Kirkman's Spirit Award and Emmy nominated documentary Dear Jesse (Cowboy Booking). Other films include Kirkman's follow-up The Night Larry Kramer Kissed Me, Jamie Yerkes Spin the Bottle, Kipp and Adam Marcus's Let it Snow (AFI winner starring Bernedette Peters), Mikey Jackson's Shooting Vegetarians (with French star Elodie Bouchez), Arthur Flam and Diane Doniol-Valcroze's Kill by Inches and Tim McCann's Revolution #9. He is half-Norwegian, half North Carolinian reformed lawyer and adjunct professor at NYU Graduate Film School. He was on the jury at Sundance in 1999 and was the Executive Producer of IFC's The Greg the Bunny Show (coming to Fox this fall). Gill worked for three years at the French Film Office after a brief stint at October Films (now USA Films).



J.D. Matonti (Executive Producer)




Matonti founded Matonti Films and has served as President since the company was established in New York City at Robert DeNiro's Tribeca Film Center in 1995. In 1998 Matonti founded the Gabriel Film Group, a full-service distribution entity. Matonti and the Gabriel Film Group recently acquired North American Distribution rights to The Simian Line (Lynn Redgrave, Harry Connick Jr., William Hurt)

Graduating from Syracuse University, Matonti received a dual degree: a Bachelor of Science in Television, Radio, and Film from the S.I Newhouse School and a Bachelor of Science in Marketing from Crouse-Hinds School of Management.



Chris Matonti (Executive Producer)

While attending graduate studies at New York medical College, Chris worked with J.D. Matonti on various projects. He handled music for Cassian's Kids. With the success in film production and foreseeing the rapid growth in independent film in New York, Chris Matonti helped establish Matonti Films in the Tribeca Film Center. He produced Loose Women, where he was responsible for overseeing all aspects of film-making, including raising the necessary financing to bring the project from script to screen. In addition, he produced a 21-song soundtrack, which included such musicians as Hootie and the Blowfish and Luscious Jackson. He also Executive Produced Wedding Band. Matonti helped strategically launch Gabriel Film Group.

Matonti received a B.A. from Bucknell University with a degree in Art History/Studio Art and Biology. He is an active member of the Independent Feature Project. He is a supporter of the Tribeca Partnerships.

Adriana Chiesa (Executive Producer)

The owner and President of Adriana Chiesa Enterprises, Chiesa is among the most established distributors in the world, with over 25 years of experience. Industry peers most recently recognized her expertise when she received the prestigious European Exporter of the Year Award at MIFED 1999. Before forming her own company, Chiesa spent 17 years at Medusa Distribution where she acquired, for European distribution such films as Dead Ringers, Amadeus, Ran and the first two Rambo films. Adriana's offices are located in Rome, where she resides with her husband, Carlo DiPalma; one of the most respected Cinematographers in the world.



Julia Coppola (Executive Producer)

As Chairman of Matonti Films, Julia Coppola served as financing partner and Executive Producer of Wedding Band, starring Deborah Gibson and Dom DeLuise. She also strategized marketing and publicity for Loose Women, with Charlie Sheen and Giancarlo Esposito. Coppola acted as casting Director and the cornerstone of production for Cassian's Kids, an urban drama (which was positioned for the 1995 Cannes Film Festival and the Independants Showcase of the 1997 Berlin film festival). Coppola is presently Executive Producing several independent films and is heading up distribution with foreign co-distribution partner Adriana Chiesa Di Palma (Adriana Chiesa Enterprises). Coppola is a member of Women in Film and received a Bachelor of Arts from the College of Notre Dame.

Matonti has a multifaceted background in all aspects of filmmaking.Matonti has always taken a cost-effective approach to physical production, successfully directing and producing feature films (Cassian's Kids), music videos (Deborah Gibson's Only Words), documentaries (The Rise and fall of the Etruscans) and TV commercials (Dominos Pizza, Lender's Bagels, Burger King). Recent feature films that Matonti has also executive produced Wedding Band (Dom Deluise, Deborah Gibson) and Loose Women (Charlie Sheen).

Associate Producers

JOHN DAVIDSON

CHRISTIAN MINKLER

RAYMOND DEMARCO

Assistant Producer

VERONICA BERO

Assistant Camera

CHRIS BENKER

YAWMENG SOO
Script Supervisor
Gaffer
JEROME TAYLOR
Sound
ANDY RAYLAND
Boom Operator
ANDREW FREIBAND
Make-Up Artist
IREEN POWER
Production Assistants
CARRIE JONES
KARLA REYES
Editing Intern
DANIEL FAZZINA
Diologue editors
NANCY NUGENT
PEMBROOK ANDREWS
Effects Editors
JEFF K. BRUNELLO
ADAM GILLICK
Foley Mixers
ERIC THOMPSON C.A.S
SHAWN KELLY
Foley Artists
SUSAN PUSITERI
ERIC ALEXANDER
Re-Recording Mixers
CHISTIAN MINKLER
JOHN TAYLOR
GARY GORMAN
Re-Recording Assistants
EDDIE BYDALEK
ANDREW PEACH
Sound Design
Paul Curtis